Li-Cycle reports significant revenue surge led by rising metal based prices
March 17, 2022
Original article published in Seeking Alpha
Li-Cycle (LICY +7.3%) reported revenue surge of 277% to $3.8M led by increases in product sales and metal based prices; increases in volume are primarily related to the quantities of batteries and battery scrap processed at the New York Spoke.
Net profit stood at ~$28.5M, compared to a net loss of ~$6.8M in the prior-year period; included $50.9M of fair value gains on financial instruments.
Adj. EBITDA loss of $16.9M, compared to $3.7M for the prior-year period driven by higher staffing and network development costs related to the growth and expansion of the business.
Rapid TAM expansion is driven by gigafactory deployments: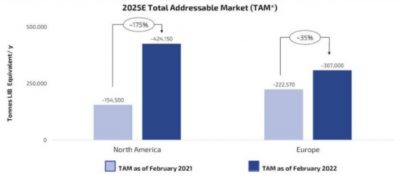 The company redeemed all of its remaining unexercised warrants on Jan.26, 2022 and as of Jan.31, 2022 there are no warrants outstanding.
The quarter ended with ~$552M cash on hand which is expected to fund the large majority of all the capital needs for the Rochester Hub, the five Spokes in development and expected operating needs over the next two years.
It has achieved key environmental permits for Rochester Hub, the first hydrometallurgical battery resource recovery facility in North America and is on track for commissioning in 2023.