"Turning trash into treasure": Treasure hunters who established urban mine out of waste batteries in America
September 29, 2022
Original interview published via Businesswatch Korea
The paradox of eco-friendly electric cars
Interview with Executive Chairman Tim Johnston and President & CEO Ajay Kochhar, co-founders of Li-Cycle, the largest battery recycling company in North America.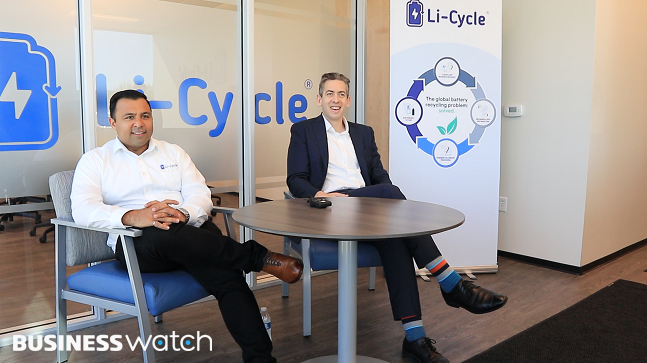 There is a strong perception that electric vehicles are 'eco-friendly'. Even though there is an 'environmental pollution' factor behind it. If the battery is disposed of in large quantities, environmental problems will be caused. To solve this paradox of eco-friendly electric vehicles, recycling waste batteries is necessary. However, waste battery recycling technology is still in its early stages. In Korea, it is difficult to revitalize the industry due to the lack of related laws. Business Watch aims to focus on analyzing ways to recycle waste batteries through coverage not only in Korea but also in Europe and the United States, where the electric vehicle market is rapidly growing, and to explore the sustainability of eco-friendly electric vehicles.
We are quite realistic engineers, so we never imagined that the battery recycling industry would grow so fast. I'm amazed and happy to be in the spotlight in the industry."- Tim Johnston, Executive Chairman of Li-Cycle
Gilbert (USA) – Reporter Baek Yu-jin and Kim Dong-hoon – ExecutiveChairman Tim Johnston and President & CEO Ajay Kochhar founded Li-Cycle in 2016. The company, which started with two engineers, has now grown into the largest battery recycling company in North America with more than 360 employees in the United States and Canada. It was listed on the New York Stock Exchange in August last year.
When the company was founded, the U.S. was skeptical about the supply of electric vehicles, let alone recycling batteries. The U.S. has started to drive the spread of electric vehicles since U.S. President Joe Biden took office last year. President Biden declared that he would increase the proportion of electric vehicles in the United States to 50% by 2030.
"In 2016, when we founded Li-Cycle, no one was interested in recycling batteries," President & CEO Kochhar said. "At that time, just mentioning electric vehicles was an 'early adapter' and most people were even questioning the growth potential of electric vehicles."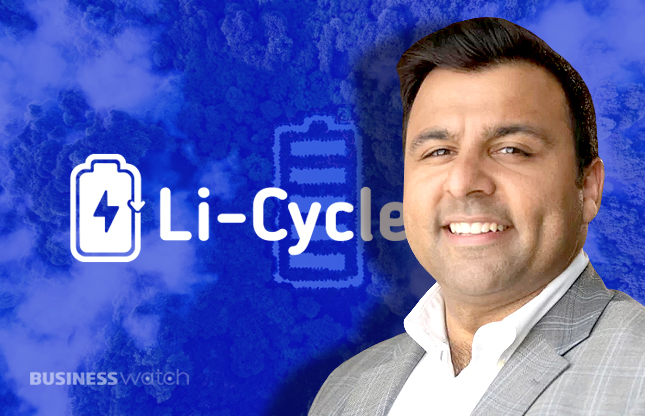 Despite the indifference of the market, the two engineers started their own businesses thanks to the 'submerged shredding' technology developed together. This technology is characterized by securing safety and environmental properties by eliminating high-temperature heat treatment processes in the recycling process. ▷ Related Articles: [Repo] The secret of the 'LG Pick' battery recycling plant being 'cool' despite the heat wave (September 27)
The preprocessing process in which Li-Cycle produces black mass (black powder mixed with nickel, cobalt, and lithium in powder form) is patented in North America. There is also a patent for a post-treatment process in which black mass is purified and converted into chemical raw materials. The confidence to be years ahead of industry competitors comes from here.
"Li-Cycle has built a valuable intellectual property portfolio for six years and is looking ahead of other battery recycling companies by two years," Johnston said. "Other companies will not be able to see the problems they are facing until two years later."
Experience in previous work has been a great help in developing such technologies. Johnston and Kochhar are from Hatch, a Canadian engineering firm. Johnston majored in mechanical engineering at the University of Queensland in Australia and managed the lithium business project as a senior consultant at Hatch. Kochhar majored in chemical engineering at the University of Toronto in Canada and served as an advisor to the development of metal industry technology at Hatch.
Executive Chairman Johnston said, "I often saw lithium-ion batteries treated as trash and high-value chemical materials were just thrown away while I was in the industry related to lithium mining and smelting," adding, "I couldn't recover lithium because I burned organic matter and plastic at high temperatures."
He said, "We entered the business because we thought battery recycling solutions were essential for the conversion of electric vehicles and environmental and economic sustainability."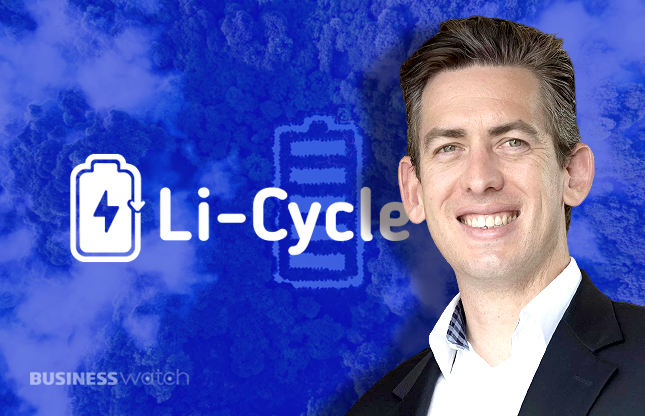 A favorable environment for North American business
Recently, the overall environment of the battery recycling market is favorable for recycling. In particular, the Inflation Reduction Act (IRA), which the U.S. passed to establish its global supply chain, was a boon to the lifecycle of securing a business structure centered in North America.
According to the IRA, electric vehicles manufactured in North America will be provided with subsidies (tax credits) of up to $7,500 (about 10 million KRW) per vehicle. In addition, starting next year, more than 40% of minerals such as nickel, cobalt, and lithium will be procured from countries that have signed FTAs (free trade agreements) with the U.S. By 2027, the rate will rise to 80%. More than half of the battery parts will be made in North America from next year, and 100% will be used by 2029.
Executive Chairman Johnston said, "IRA aims to increase the domestic market by providing incentives to manufacturers that have secured supply chains in the U.S. or North America," adding, "The advantage of Li-Cycle is that it processes raw materials, produces, and provides products in its own country."
President & CEO Kochhar also added, "Now, manufacturers will think about how to meet the conditions for subsidies, and eventually meet the incentive conditions for procuring parts and raw materials in their countries." It is said that the North American-centered business structure alone has given Li-Cycle to preoccupy the advantageous position in global competition.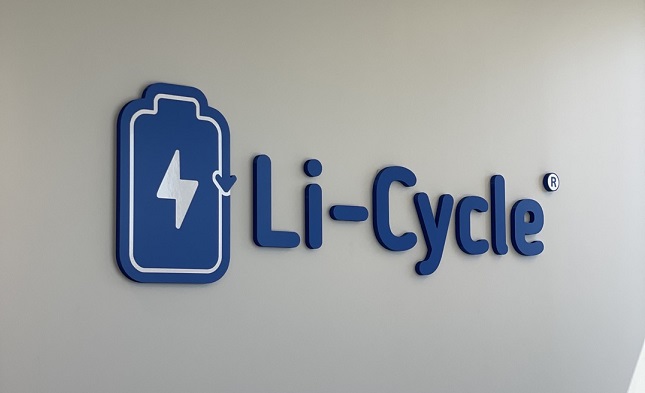 It is also an advantageous condition that the U.S. is a large market with a population of more than 300 million. There are basically a lot of batteries that can be handled. Since electric vehicle batteries have a lifespan of about 10 years, waste batteries that have expired have not yet been released. Currently, recycling companies mainly deal with defective products, or scrap, from the battery production process. However, Li-Cycle still processes thousands of tons of batteries a year. About a quarter of them are scrap supplies.
President & CEO Kochhar said, "Last year, we processed more electric vehicle battery scraps than expected. Scraps account for the largest portion of future processing capacity."
Challenges left for market leadership
However, there are also difficulties as the battery recycling market is in its early stages. Li-Cycle has yet to make a proper profit while focusing on facility investment. The recently announced third-quarter net loss of Li-Cycle was $27.52 million, nearly quadrupling from about $6.9 million a year earlier. This is due to the increase in operating costs due to the expansion of North American plants and the initial construction of preprocessing plants in Europe. In fact, the amount of investment in Li-Cycle increased from $25 million each in the first and second quarters of this year to $82.11 million in the third quarter.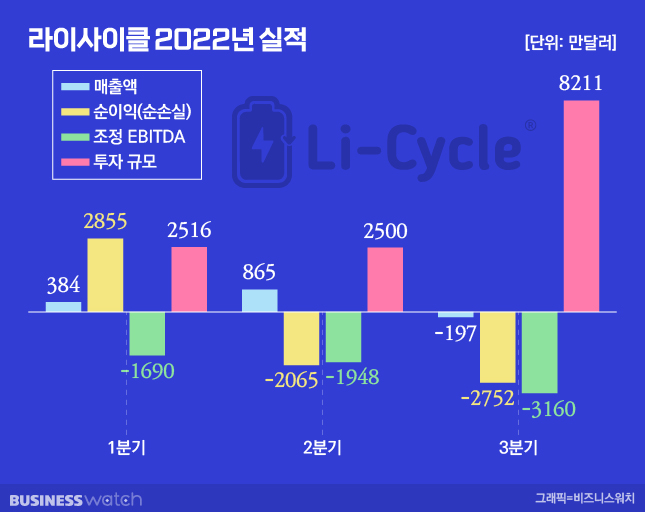 President & CEO Kochhar said, "Currently, it is important to see how quickly Li-Cycle can expand its facilities to increase its processing capacity and gather necessary manpower to start operating its plant." As it is in the early stages of the business, it is necessary to make aggressive investments now.
"Li-Cycle is investing heavily in building new facilities to prepare necessary assets in advance to respond to a tsunami of lithium-ion batteries", Johnston said. "We started it at the time of the company's foundation, and we will continue to expand our facilities for the next few years."
One of the challenges of Li-Cycle is to prepare for future technologies in advance along with steady facility expansion. This is because different technologies may be needed to recycle next-generation batteries that will be developed in the future.
Executive Chairman Johnston said, "We have developed a technology that can be handled using non-heating treatment methods for solid-state batteries, but lithium metal-based batteries have technical obstacles. Next-generation batteries are expected to have a higher value of recoverable raw materials than conventional lithium-ion batteries."
In the end, Li-Cycle's long-term goal is to play the role of a "global urban mining" through continuous technology development and facility expansion. Chairman Johnston said, "We want to lead the world in the field of lithium-ion battery processing as a way to recover the raw materials needed to manufacture new batteries. Our role is to provide long-term value in the market through technology, business, and partnerships."