The European Union's Battery Regulation will support the development of a sustainable and competitive battery supply chain and will incentivize domestic recycling of lithium-ion batteries. As such, recycling efficiency targets and recovery rate targets are critical levers in the EU's toolbox to create a circular battery supply chain and to continuously drive innovation.
Li-Cycle's commercially proven, safe, sustainable, and scalable Hub and Spoke Technologies™ allow us to recover up to 95% of key materials in lithium-ion batteries, including lithium, nickel, and cobalt. Our Spokes are capable of safely shredding all lithium-ion batteries and manufacturing scrap into an inert black mass while separating copper, aluminium, and plastics. An important part of Li-Cycle's process is that it can safely and economically process all lithium-ion batteries – irrespective of chemistry, form factor, or size – including LFP batteries. This process provides a competitive advantage and differentiates our value proposition compared to incumbent recyclers. In the Hub, we can extract all critical battery materials – including battery-grade lithium, cobalt, and nickel, which can be fed back into the battery supply chain. Li-Cycle's environmentally sustainable process produces no wastewater, minimal solid waste, and emissions, and is the most energy-efficient process that is commercially available today.
Our four operational Spokes in North America have the capacity to process 30,000 tonnes of manufacturing scrap and EOL (End of Life) batteries per year. We are also rapidly expanding in Europe, including building a Spoke facility in Germany, which we intend to operationalize in the first half of 2023. Our project plan also includes a Spoke in Norway, with our current Spokes having the flexibility to significantly increase capacity in the future, growing in lockstep with customer demand. We are targeting cumulative capacity to process 65,000 tonnes of lithium-ion battery materials. Li-Cycle's cornerstone Hub facility in Rochester, New York is currently under construction, and is expected to start commissioning in 2023. The Hub is designed to process up to 35,000 tonnes of black mass per year, or the equivalent of approximately 90,000 tonnes of lithium-ion battery input.
Based on the successful commercial operation of our Spokes for the last couple of years, a large-scale pilot of our Hub operation, and validation from our key partners on the end-products from the Hub, we are confident in our capabilities to meet the most stringent and ambitious recycling efficiency and recovery rate targets proposed under the Battery Regulation.
We are encouraged to see the EU leveraging its governance structures and industry's innovative capabilities to meet the global challenge of climate change while building strategic resilience in the face of geopolitical issues. We at Li-Cycle, are eager to contribute to the EU's mission for a green and digital economy, by building a safe, sustainable, and circular battery chain.
Batteries will power a decarbonized and resilient European economy 
The EU is motoring ahead toward the development of a robust battery value chain. Investments in all activities – from materials extraction to downstream recycling will help the EU gain strategic autonomy in the transition towards a green and digital economy. Based on investment trends in domestic battery manufacturing alone, the EU is forecast to meet 69% and 89% of its increasing demand for batteries by 2025 and 2030, respectively. This oncoming surge of lithium-ion batteries will power fleets of European electric vehicles – trucks, cars, scooters, e-bikes, and ships and aircraft; and will play a critical role in integrating high shares of renewable energy on the grid. Taken in aggregate with investments in other parts of the value chain, the battery industry would create additional value of €625 billion per year by 2030 and create countless new jobs.
Secure and sustainable supplies of battery materials such as nickel, cobalt, lithium, and graphite will be critical for ensuring rapid energy and mobility transitions and achieving the EU's ambitious climate goals, and providing industry leadership. Increasing domestic capacity across the battery value chain, including exploration, mining, and refining will be essential.
However, the primary supply of battery materials from EU sources is going to be insufficient to meet the projected demand. As well, maturing and commercializing the supply chain of battery materials is expected to require a significant amount of lead time. Europe will need to look to secure primary materials from diverse strategic partners and boost domestic battery recycling to meet its goals.
Battery recycling will play a critical role in achieving EU goals
Domestic recycling of lithium batteries will need to play a significant role in reducing the demand for virgin materials and bolstering Europe's energy security. The recent study "Critical Raw Materials for the Energy Transition in the EU" by SYSTEMIQ notes that a sizeable portion of the EU's demand for battery materials must be met through recycling. While technological innovation and behavioural changes may provide opportunities for substitution or reduction in the use of some materials, the study notes that by 2050, 65% of cobalt and 77% of lithium consumed in the EU will come from secondary sources. Much of this material will be available through the recycling of end-of-life batteries from EVs and stationary storage applications, and battery manufacturing scrap.
Policymakers must facilitate the rapid scale-up of battery recycling now to be able to recover materials securely and sustainably from an oncoming surge of manufacturing scrap and end-of-life batteries. As battery manufacturing in the EU continues to grow exponentially, from 124 GWh in 2022 to as much as 1.5 TWh by 2030 as projected by the Fraunhofer Institute, Europe must look to build recycling facilities that can process manufacturing scrap. Scrap from battery manufacturing facilities including off-spec cells or powder, and electrode cuttings, can be a sizeable portion of recyclers' overall feedstock and is likely to constitute a majority of the overall feedstock for recycling until 2030.
The proposed EU Battery Regulation is a key enabler of battery recycling
The proposed EU Battery Regulation will provide a clear framework and incentives for the development of a greener and more competitive value chain for batteries. Measures for issues such as extended producer responsibility, recycling efficiency, and metal-specific recovery rate targets are significant incentives for the European battery recycling industry.
Additionally, requirements around carbon footprint disclosure, value chain transparency, and traceability through a battery passport, will do more to ensure that the battery industry adheres to the highest ESG (Environmental, Social, and Governance) standards and helps the EU meet its decarbonization goals. This will also drive technology and process innovation and be a source of competitive advantage for EU industries in a rapidly changing market.
Li-Cycle is scaling its safe and sustainable battery recycling technology in Europe
As a leading lithium-ion battery recycler and resource recovery company, Li-Cycle is committed to scaling its safe and sustainable Spoke & Hub Technologies™ in Europe to create a local, closed-loop battery supply chain. Our proprietary Spoke & Hub Technologies use a combination of safe mechanical size reduction and hydrometallurgical resource recovery specifically designed for lithium-ion battery recycling. At our Spoke facilities, all types of lithium-ion batteries – including LFP batteries – are safely and efficiently shredded into an inert black mass, aluminum, and plastics in batteries. At the Hub, black mass is processed into critical battery-grade materials – including lithium carbonate, nickel sulphate, and cobalt sulphate – for reuse in the battery supply chain.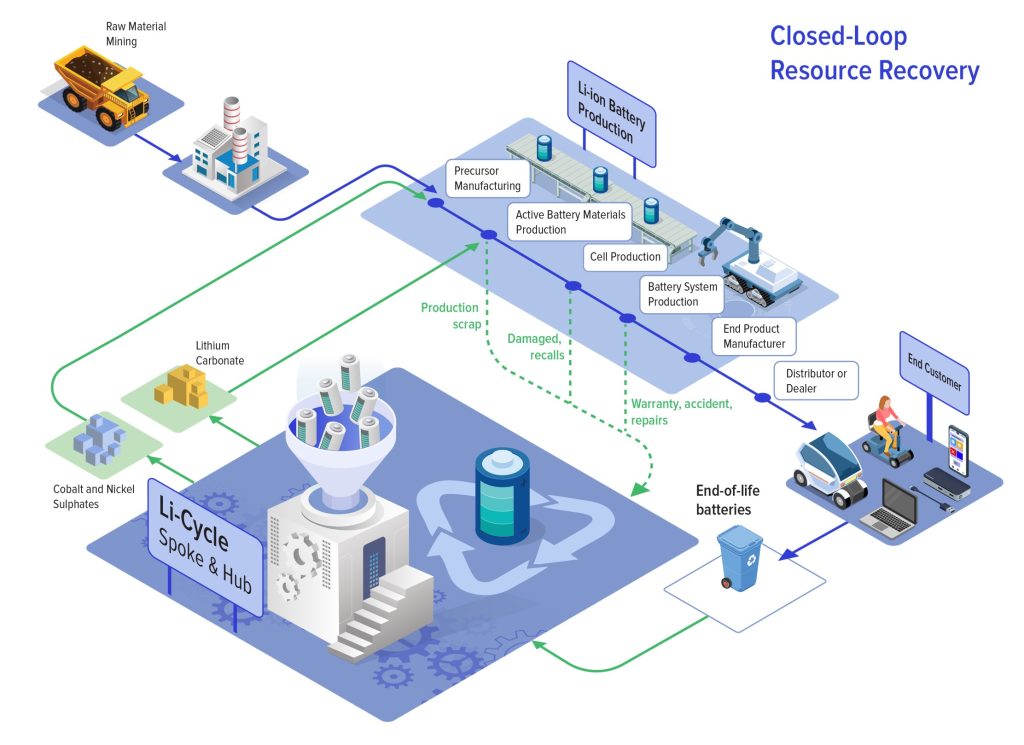 Founded in 2016, Li-Cycle opened its first Spoke facility in Kingston, Canada in 2020, which is capable of processing up to 5,000 tonnes of lithium-ion batteries annually. Since then, Li-Cycle has expanded into the United States and has opened three Spokes in New York, Arizona, and Alabama. Additionally, Li-Cycle is developing its first expansions into Europe, with planned Spokes in Germany and Norway. Li-Cycle's Spokes in North America have a total processing capacity of up to 30,000 tonnes of lithium-ion batteries per year, and its current pipeline envisions process capacity of 20,000 tonnes per year in Europe, with flexibility for further growth.
Li-Cycle's hydrometallurgical refinery Hub facility in Rochester, NY is on track to be commissioned in 2023. The Rochester Hub is designed to process up to 35,000 tonnes of black mass per year (equivalent to approximately 90,000 tonnes of lithium-ion battery input annually) and process battery materials that are equivalent to 225,000 electric vehicles per year. Once completed, the Rochester Hub will be one of the world's largest facilities and sources of recycled lithium.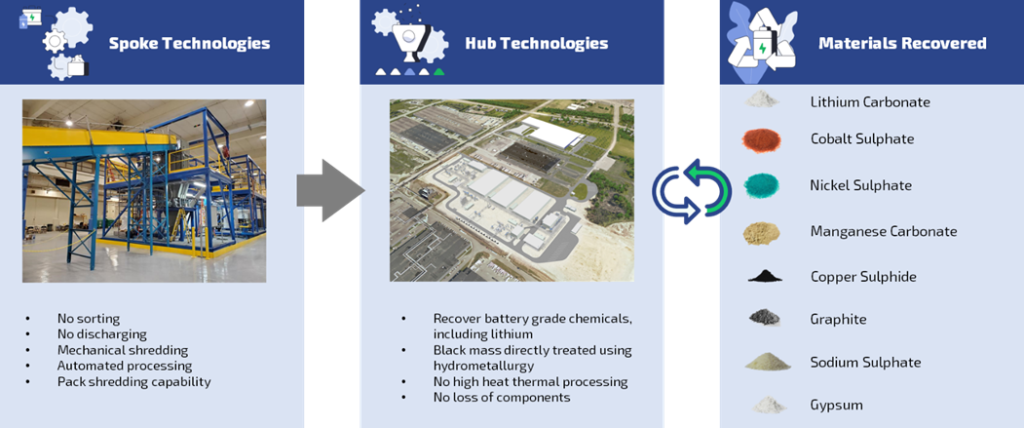 Sustainability is at the core of Li-Cycle's business. Based on the company's LCA (Life Cycle Assessments) analysis, our process offsets CO2 emissions by 40 – 67%, SOx emissions by 80 – 86%, and NOx emissions by 86 – 89% per tonne of battery input compared with incumbent mining and refining processes. All water used as part of the process is recirculated in a closed loop. The process produces minimal solid waste (e.g., maintenance waste, for example, outside of the core process that is generated in the usual course of operations). Battery recyclers must ensure environmentally friendly processes minimize adverse environmental impacts and meet high environmental standards are used.
As such, Li-Cycle welcomes the continued regulatory push to propel carbon reduction initiatives in the battery supply chain, and beyond. We are preparing to disclose detailed data on the environmental footprint of our processes and will look to set actionable targets to drive the battery recycling industry forward.
Our commercially proven, sustainable, and scalable technology allows us to meet the targets set out in the Battery Regulation
Li-Cycle continues to maintain strong support of EU policy efforts to establish and achieve ambitious Recycling Efficiency Rates and Material Recovery Rates throughout the battery recycling industry. Li-Cycle stands ready to be a key partner in helping governments achieve material recovery rate goals and have demonstrated this through our ability to recover up to 95% of key battery materials including lithium, nickel, and cobalt.
We have proven our hydrometallurgical capabilities in the Hub with a large-scale pilot plant in Kingston, Ontario which operated for over one year, primarily between 2019 and 2020. We tested our process with known equipment and proven chemical processing technologies. The scale of the individual unit operations exceeded that of industry standards for piloting this type of equipment, giving us added confidence regarding our ability to scale up. Finally, we tested and qualified the end products with key customers in the global battery supply chain, many of whom we are working with today.
We support the EU's plans to progressively increase recycling efficiency and recovery targets to spur innovation for battery recycling technologies and reduce import dependency. While ambitious, we believe such targets should provide an allowance for a ramp-up period following the entry into force of the Battery Regulation.